Truro Park & Ride
Truro Park and Ride operates a cross city service between Langarth Park at Threemilestone and Tregurra Park adjacent to Waitrose. The service is operational 6 days per week (Monday to Saturday), with additional services for events e.g. late night xmas shopping.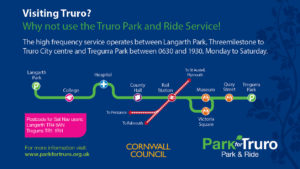 The Service route encompasses key destinations on the corridor including Truro College, the Royal Cornwall Hospital, New County Hall/Aldi, Truro City centre (River Street, Quay Street and Victoria Square).
Buses operate a regular service for passengers, with a 10 minute frequency during peak hours, and every 15 minutes o -peak between the hours of 7am and 7pm. The service also provides a link directly into Truro Railway Station interchange with all buses stopping on the way into and out of Truro.
Customers – c1,000,000 passenger journey per annum (Tregurra site still continuing to grow)
Paper day tickets sold per month – c20,000
Smart card transactions on bus – c40,000 per month
Total passengers per month = 40,000 to 45,000
Car park spaces = 1209 at Langarth and 1379 at Tregurra
Enquire today about Digital Screen Advertising, A3 Poster frames, Back of bus Advertising and Back of ticket adverts.